Features of the account of operations of a complete set of fixed assets
1C: Enterprise 8.2 /
Manufacturing enterprise management for Ukraine /
Fixed assets and repairs
Table of contents
How to make out a picking operation
When to make out the operation of picking or disassembling
The configuration keeps records of operations for the assembly of fixed assets. These are operations that establish the mutual arrangement, nesting of one object into another. It is important that the picking operation can be performed only on fixed assets that have already been taken to management accounting . That is, in order to execute a picking operation it is not enough to create new elements of the directory " Fixed assets ", which will be involved in the configuration, it is necessary that both the components and the kit itself are accepted for management accounting as fixed assets. Regulated accounting does not reflect the operation of the configuration.
How to make out a picking operation
To reflect the operation of picking using the document "Completion OS". However, information on the configuration can also be specified in the documents " Input of initial balances by OS "and" Acceptance OS ". If the package bundle is documented with the OS bundle document, you need to specify the value of the Event attribute in the document. To do this, you need to add an element of the directory with the event type Other in the" Asset Event "directory. You can call it the" Bundle " For convenience of accounting, you can create the second element of the directory and call it "Razumkomplektatsiya." Razukomplektapation is the reverse process of picking, that is, an indication that the fixed asset is no longer part of another fixed asset.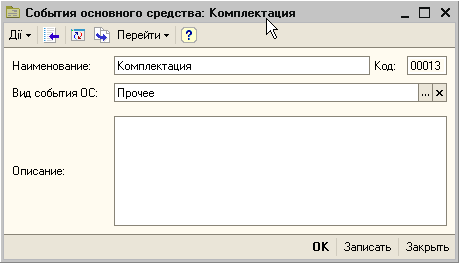 The decommissioning operation can only be done in the OS bundle document. In order to formalize the dismantling in the document, you must leave the "Included in the OS" requisite not filled.
When to make out the operation of picking or disassembling
When a fixed asset is written off from the account or when it is sold, the operation of picking or disassembling is not performed automatically. That is, if, for example, the fixed asset was included in the kit, and then it was sold, then you need to manually execute the document "OS bundle" and bring this fixed asset out of the kit. Similarly, if this basic means had its composition, then the components also need to be removed from the composition of the main asset sold. The sequence of registration of sales operations (write-offs) and picking is not important.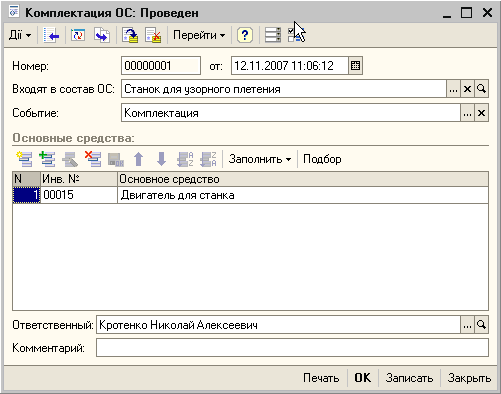 If the asset is written off, for example, due to obsolescence, but physically remains in the enterprise, then it is not necessary to introduce dismantling. That is, the decision to disassemble the asset that has been derecognized must be taken by the user separately for each such case.
Moreover, the set formation operation is available for fixed assets written off from the account. For example, if an asset is derecognised but continues to be used somehow, then it is possible to issue a complete set for it, change its composition or, conversely, change its inclusion in another fixed asset.
Other materials on the topic:
dismantling , equipment , accessories , event , other , taxes , selection , fixed assets , sequence , input of initial balances , sales , manually , element , props , fill , directory , operations , 8.2 , accounting , document
Materials from the section: 1C: Enterprise 8.2 / Manufacturing Enterprise Management for Ukraine / Fixed assets and repairs
Other materials on the topic:
Revaluation of fixed assets
Data sources for budgeting calculations
System-wide mechanisms and principles
General mechanisms for commodity documents
Budget structure
We are found: a set of fixed assets in 1s 8 2 , a complete set of fixed assets , an act of a complete set of a fixed asset, a complete set of fixed assets in 1s 8 2, a complete set of a fixed asset, a complete set of a fixed asset in 1s 8 2, an act of a complete set of fixed assets, a fixed asset accounting, complete set of wasps, complete set of main means from materials